OK, folks, it's t-minus 10 days and counting until Christmas, so if you're still rounding-out your shopping list, there's no time like the present to get cracking on those, err, presents. The year 2011 has seen some great original games, some excellent sequels and laid the groundwork for what promises to be an outstanding 2012. But before we look to the New Year, we've got to focus first on the holidays, which naturally brings us to our 2011 Holiday Gift Guide.
We realize time is precious at this point, so we're keeping this year's guide short and sweet. Many of the games below we've already reviewed, while others are languishing in our must-review-before-Christmas backlog. A few others we chose not to review at all for the simple reason that we want to maintain our love affair with games rather than see every single title as a chore. But suffice it to say, even if you've not heard our full thoughts on one of the games below, these are all part of our Holiday Gift Guide because they're worth every penny.
So, without further ado and in no particular order, here are the games we know would be welcome additions to that fat stack of gifts piling up under your tree.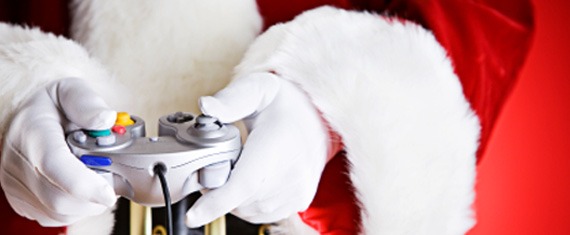 El Shaddai Ascension of the Metatron: What better game to give during the holidays than a biblical story? The indescribable artwork and simple but elegant gameplay make this one of the best games of the year. Read our El Shaddai Ascension of the Metatron review.
Super Mario 3D Land: This is THE reason to buy a Nintendo 3DS. The game makes perfect use of all three dimensions, while an extremely enjoyable platforming title sits underneath. Easy to pick up and play, but tough to master. Read our Super Mario 3D Land review.

The Elder Scrolls V: Skyrim: Skyrim is the fantasy action RPG that other role-playing games aspire to be. Deep character customization, an open world that would make Rockstar blush and top-notch production values make this one a "must have." The fact that you can battle against dragons is just gravy. Literally hundreds of hours of gameplay await, making this pound-for-pound the most valuable game you'll buy this year.
Pinball FX 2 expansions: Not technically fully released this year, but some of the add-on tables for PFX2 have been fantastic. The Captain America and even the Ms. Splosion Man tables have been a lot of fun. When you're talking bang for the buck, this game earns top prize.
Dead Space 2: Take all that was good about the first and improve the not-so-good parts and you get Dead Space 2. Although this survival-horror action/shooter came out WAY back in early 2011, it deserves to be on any horror game fanatic's holiday shopping list. You might even be able to find it for a bargain.
Portal 2: Shooting teleportation portals onto various surfaces to navigate a maze-filled world sounds boring, but the inherent challenge — along with a witty narrator and sadistic evil AI foe — keep you pressing forward. Cerebral gamers will not find a better experience this side of Chessmaster. In fact, that analogy does a disservice to Portal 2. Read our Portal 2 review.

Uncharted 3: Drake's Deception: Already the best franchise on the PS3, Uncharted 3 ups the ante yet again for narrative, environments, graphics and gameplay. It really doesn't matter if Nathan Drake was looking for Drain-o under the kitchen sink; Naughty Dog would find a way to make the adventure unforgettable. And that's exactly what this adventure to the desert is.
The Legend of Zelda: Skyward Sword: The latest adventure in this 25-year-old series proves the old dog can still learn new tricks. Head out and discover the beginnings of the Master Sword in this adventure on the Wii, and you will not be disappointed. (Wii Motion+ required) Read our Legend of Zelda: Skyward Sword review.
Skylanders: Spyro's Adventure: One of the coolest technologies to release this year, Skylanders combines a surprisingly fun and addictive adventure RPG "lite" with a toy-based medium that lets players upgrade their real-world plastic toys by using them in the game, then take them to a friend's house while retaining all their stats, upgrades and items. Designed for kids and intriguing for adults too, Skylanders is one of those rare original IPs that actually lives up to its potential. If you can find it (Amazon's currently sold out), definitely pick it up.

Kinect: This is a peripheral rather than a game, but if you didn't grab Microsoft's motion-sensing hardware last year, now's the time to do so. With titles like The Gunstringer and Child of Eden, not to mention other family titles like Kinect Disneyland Adventures and Once Upon A Monster, it's a great time to literally "Jump In."
So there you have it, a well-rounded Gift Guide that covers just about every gamer in the house. Each of these 10 recommendations would make an outstanding purchase, even if you're just playing Santa for yourself. So what are you waiting for? You've got less than 10 days to get your shop on.