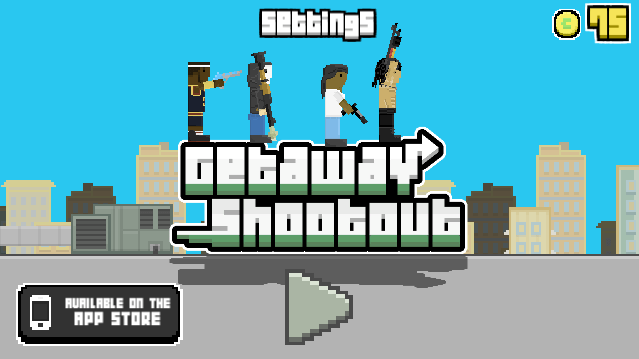 Ah, the humble jump. This gravity-defying manoeuvre has been with us since our medium started utilising a 2D side-scrolling perspective, but it's a concept arguably rooted in board gaming, when players would "jump" over one another to reach a faraway space. Since Super Mario Bros., the jump has been integral to platforming; it's a liberating, freeing movement, allowing players to traverse deadly spike traps and leap over enemies to avoid unnecessary conflict.
Of course, most games also feature lateral movement alongside jumping. There are very few video games in which jumping is the only form of movement available to the player. This would seem to have good reasoning behind it; jumping is imprecise and most games demand a greater degree of control over the protagonist than simply jumping would allow. That said, there are plenty of games which don't allow the player to jump, so moving in the opposite direction would seem a logical move for the right premise.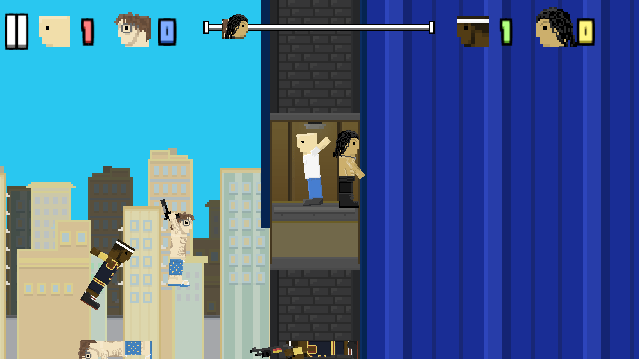 Enter Getaway Shootout, which comes to us from New Eich Games. New Eich is a developer perhaps best known for its mobile output; some previous titles include Ping Pong Chaos, Rooftop Snipers and Tube Jumpers, all of which are available now on Poki along with this newest offering. Getaway Shootout shares the lovely pixel art aesthetic of its predecessors, and true to New Eich's form, it's a chaotic two-player affair (although it's got a fairly decent single-player mode too).
Getaway Shootout tasks players with fleeing the scene of a (presumably) botched heist. At the end of a long stretch of rooftop or alleyway is a vehicle which will take them to safety – sometimes a helicopter (or a "choppa", as the game affectionately terms it) will be hovering just out of reach, while other times it's a truck into which the player must bundle themselves. Either way, three other people are fleeing alongside the player, and there's only space for one on that magical escape truck-slash-choppa. Players must vie for dominance with their three competitors to ensure that they are the only ones being escorted to safety.
The reason for that lengthy opening spiel about jumping is simple: Getaway Shootout has no movement controls. Well, okay, that isn't entirely fair. Getaway Shootout has only one form of movement, and it's jumping. The W key (or the I key if you're the second player) jumps left, and the E key (O key) jumps right. Players must navigate each level using only jumps, the powerups available throughout the level, and their own frantic sense of self-preservation.
This is as side-splittingly hilarious in practice as it is on paper. Early matches, and probably later matches as well, will quickly descend into farce as you and your friend (or the bots) desperately leap around the level attempting to grab that one powerup or get over that stupid gap you keep dying on. That's not in any way intended as a criticism. The primary purpose of Getaway Shootout is to have fun, and there aren't many more enjoyable sights than you and your friend flailing around on top of each other and firing bullets off into the sky.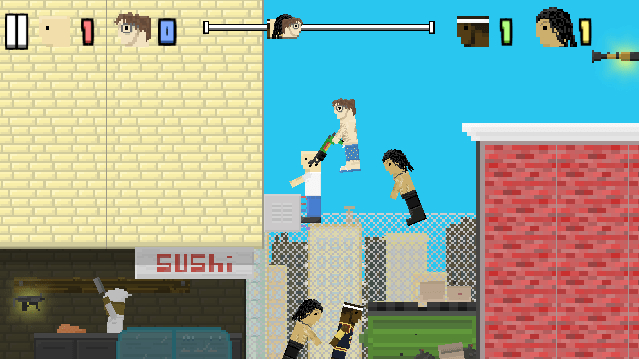 When you do finally manage to get a handle on the controls, you'll find a satisfyingly solid racing game waiting for you. Each stage is fairly short, which is to the game's benefit; races could quickly turn into slogs if the levels were longer, but they're designed around the controls, and just as the controls threaten to become a little frustrating, the round is over. There are a whole host of characters to choose from and unlock, but they're mostly cosmetic and appearance-based, so if you have a favorite, you won't need to worry about whether their performance will be impacted by newer and more statistically favored opponents.
The powerups, however, do dramatically change the flow of the game. They're mostly focused around offense, with various guns, rifles and bombs being available for players to fire and hurl at each other respectively. There are shields, but they're not nearly as useful as a good gun in your hand. Firing these weapons is quite difficult with the restrictions the controls place on the player, but that's not a criticism; a game that wants its players to be skilled is no bad thing. Figuring out when and where to use a powerup could be the difference between victory and defeat, so you'll need to get good at figuring out your enemies' weak points.
Getaway Shootout is a game best enjoyed in multiplayer, if only so you'll have someone else with whom to laugh at its ridiculousness. Races are short affairs, but there's plenty of scope for emergent laughs in each one thanks to a stubborn physics engine and a range of well-balanced powerups. All of this solid gameplay is augmented by a presentation style that knows the game's strengths and plays to them. There's an air of unironic '80s kitsch about the whole affair, right down to the Arnold Schwarzenegger-style "get to the choppa" voice sample that plays at the beginning of each race.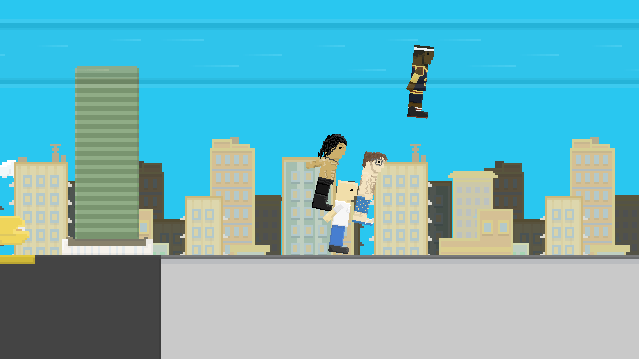 All in all, Getaway Shootout is well worth a look, if only for a few short blasts at a time. There isn't much going on beyond its chaotically enjoyable multiplayer mode and its enjoyable single-player, but there's a heck of a lot of fun to be had just bouncing around and shooting at your friends. The core gameplay is enjoyable, the visuals are great and the multiplayer mode is fun. That's a result in our books.