We all desire beautiful lashes, right? And it's often simpler to make them on our beloved Sims 4 than in real life!
Creating a Sims with impeccable clothing, accessories, and eyelashes plays a vital role in your Sim's appearance. They are among the most important CC you can purchase for your game.
Whether you desire natural-looking lashes or lashes that are long, glossy, and unnaturally bushy, CC designers all over the world have you covered? This is especially true for those using Alpha builds.
Fortunately, We did all the work for you because scrolling through the different sites and hundreds of blogs is exhausting!
Here's a handy little list that includes some of the best eyelash-enhancing CC packets to fulfill all of your needs.
List Of 30+ Sims 4 Eyelashes For An Attractive Look
Eyelash Pack N07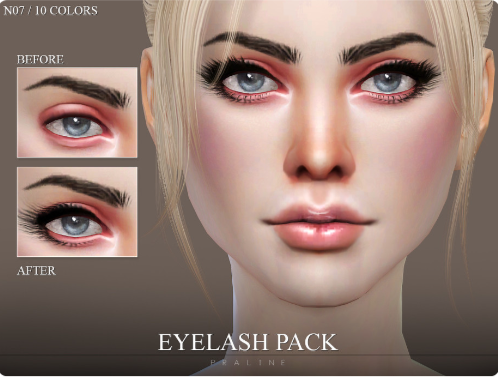 They cover the eye shape perfectly. They look slightly curved but could easily look good with hairy brows. For instance, you can apply it on your kitten coupled with a clever cat outfit with these lashes cc.
This Eyelash Bundle N07 comes as part of the extensive PralineSims inventory, and it is guaranteed to offer any Sims a vivid appearance to fit its unique personality. 
No EA Eyelashes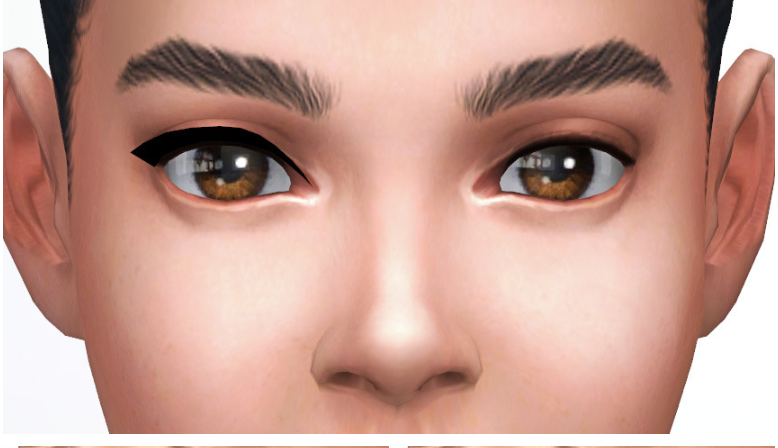 This mod provides an "introduction" to how things might alter (practically) when a well-known feature is removed from the game.
The main game does not allow users to edit (or remove) this preset; we need this mod to "unlock" it for us.
As a result, if you use a face mask, the usual eyelashes will vanish. The Sim's eyes will always be different after you download and test them in your save files.
Finally, there are two versions of the mod available: one that merely changes the age group you like and one that changes everything.
Glaza's Natural Eyelashes
They come with a nice bundle of jagged lashes. They are enough to give you Sims a superior look. No one should neglect these natural-looking lashes.
Also Read – Sims 4 Cheat Mods: What Are They And How To Use Them?
Glaza's Powerful Eyelashes
Here's a more potent version of the previous lashes kit. This one features lashes that are a little darker, more difficult, and much cuter!
Skin Detail Lash Pack N01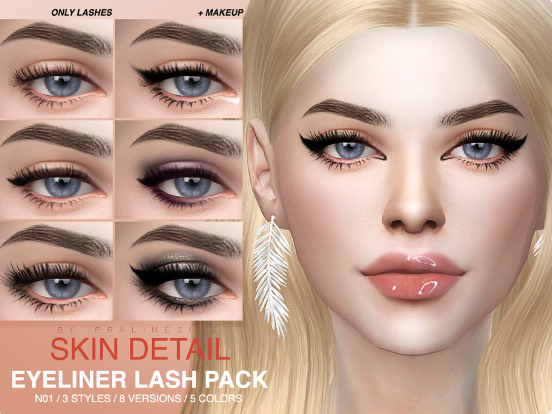 So, for some genuine eyelash CC, this mod has a typical but high-quality set of 40 various eyelash styles from the infamous CC maker PralineSims.
These eyelashes appear natural and healthy, and they are available in three different lengths.
The set also contains eight eyeliner/eyeshadow variants in five different colors for each length to match any outfit.
While most of the eyelashes in this collection are intended for feminine-looking Sims, the ones that don't have any make-up are perfect for male Sims, as guys have lengthy lashes.
WM Eyelashes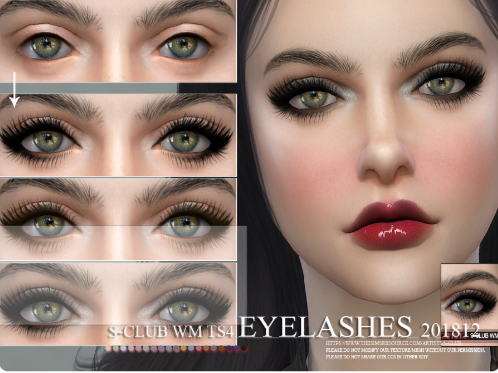 For those of you looking to present a Sim that in an identical organic & polished bunch of lashes, there is no other option. All of these, by S Club, are guaranteed to enhance their appearance without requiring an excessive lot of maintenance sims 4 C-C lashes.
While less eye-catching than other alternatives, they will provide your Sim with a chic look that will improve your look.
Ethernal Lashes N27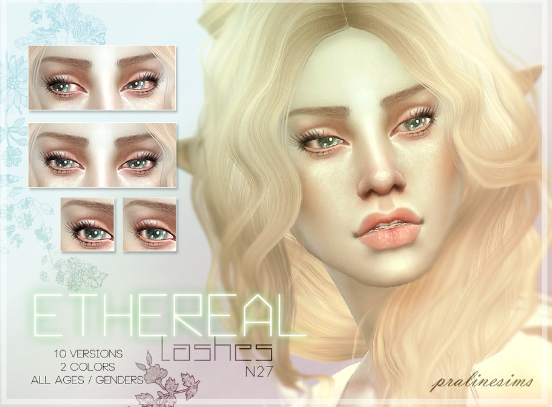 Ahh!! These are gorgeous and limited!! There are only 10 possible variations of Ethernal Eyelashes available. They come in black and a lighter hue.
You will be able to use these Eyelashes on various genders and ages. One of the greatest of PralineSims' innovations, Ethereal Lashes,is worth discussing and trying once.
These lashes are known for their graceful and elegant look. 
Also Read – Show Hidden Objects Sims 4 – The Ultimate 'Debug Cheat' Guide
3D Eyelashes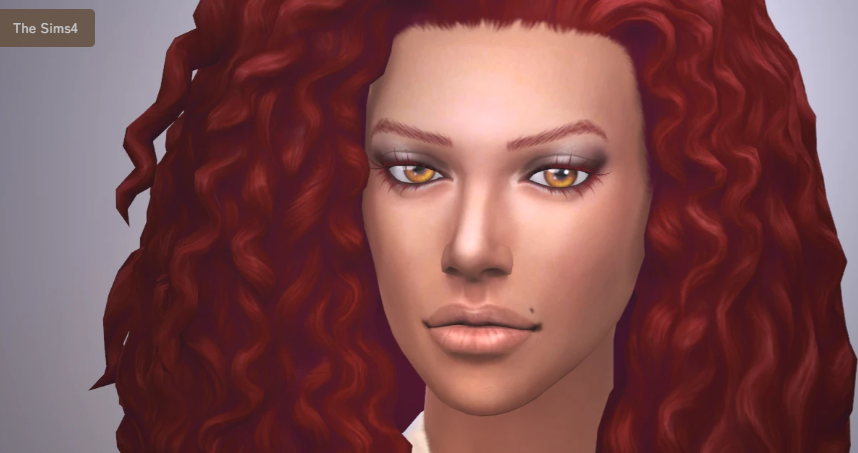 This fashionable eyelash mod is available for children and toddlers and will make their eyes gleam! They are less likely to nag after. Thus making your life in Sims comfortable. 
Misty Anime Styled Eyelashes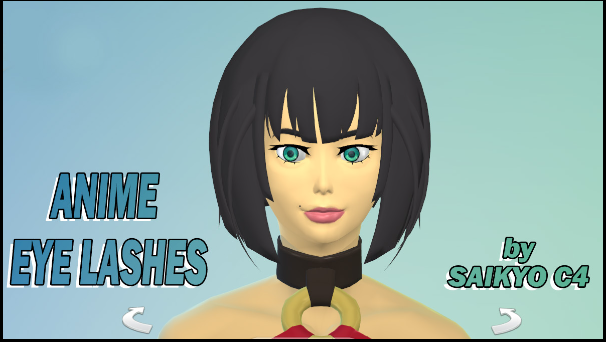 If you're creating an arcade-styled Smithen, these are the ones for you!! You will not find a better addition for your avatar, and your Sim will most likely resemble a genuine hero in a true story! You can find it in ModTheSims!! 
Full Exposure Eyelashes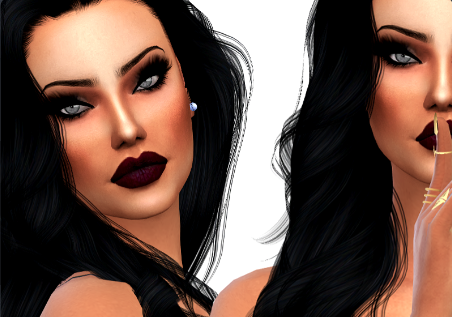 They are so appealing that you wouldn't be able to resist but add them. Having a Sim that wants to look like a scene from Bratz is quite adorable. These eyelashes are eye-catching and might seem quite orgasmic.
Nevertheless, the fact that Queen Bee's maker creates these thick black lashes is only a clue. They are intentionally made to appear intensely glamorous.
Also Read – Best Sims 4 Sex Mods To Make Your Gameplay More Fun
Burn Eyelashes V1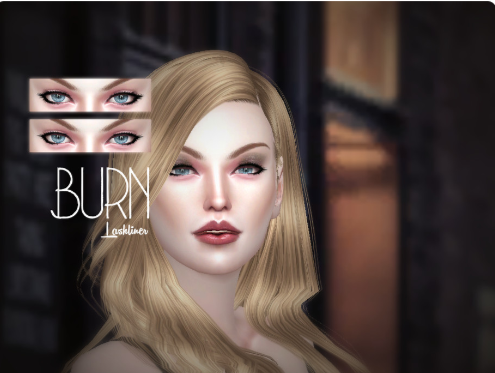 Razer-BURN Kun's Sims 4 CC lashes are yet another intriguing alternative that uses the same faux-lashes method.
Anyone who appreciates the original visible kind of Maxis and has no business transforming their Sims into super realistic digital beings with Alpha Sims four lashes C-C, those darker, defined"lashes" are great.
They are available in two separate hues, Teen and Elder, and may be used in both male and female Sims.
Bobur's Gentle Eyelashes 15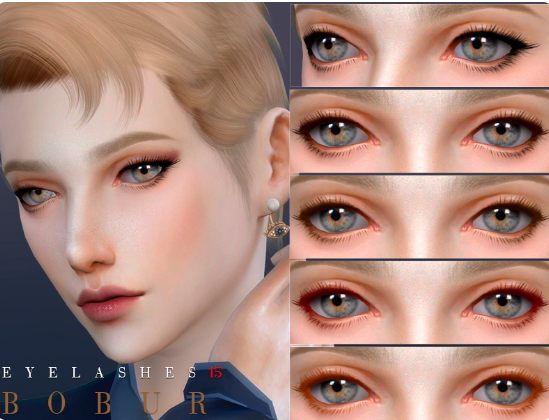 You can Consider these HQ-compatible lashes by developer Bobur3 if you're using The Sims 4 with the HQ mod to snap hyper-detailed photographs.
They're short, which helps them appear natural, yet they're black and bushy enough to stand out despite their small length.
These are ideal for the coquettish adolescent or young adult girl out for a night of dancing, with a sharp cat-eye design.
Bobur's Lovely Eyelashes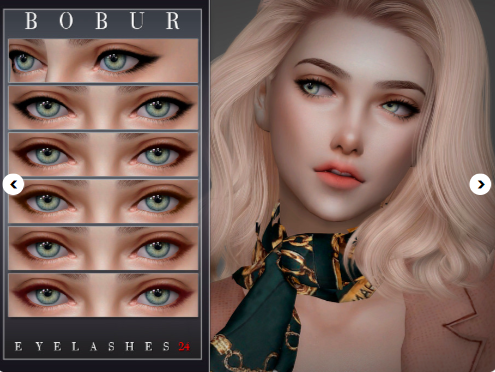 We discovered those fantastic lashes on The Sims' excellent resource. The mod allows for numerous lovely looks, and when combined with thoughts, it just cannot be surpassed!! 
Bobur Eyelashes 20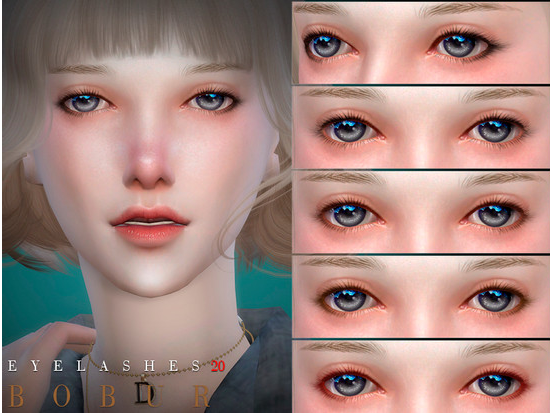 Bobur contains vast tan packs to spice up the entire CAS repertory, and diversity might be the savor of daily living. Nonetheless, you can try these gorgeous, natural-looking creations.
All of these, including the primary kinds, are HQ-compatible and come in a variety of eight colors ranging from standard to awesome.
Also Read – Sims 4 House Layouts – Top Realistic Sims Dream Houses
WM Eyelashes
If you liked the last one but want something a little more dazzling, have a look at these S-Club eyelashes.
This sumptuous lash CC pack is far more voluminous than the previous styles, and it includes an eyeliner selection designed to compliment them well.
These are straight rather than curled, unlike many other high-quality eyelash CC sets. Giving them a distinct appearance (which may or may not be what you're aiming).
Get this for a Sim that wants to make their gaze more appealing and engrossing.
Plumbojuice 3D Eyelashes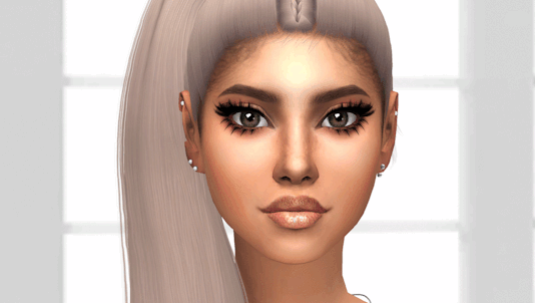 These notably bushy and thick lashes are variations of one of the first 3D eyelash packs to become well-known – Kijiko's 3D eyelashes.
Plumbobjuice's 3D eyelashes are available in 25 different styles to meet your needs and are one of the most popular lash packs in recent years.
Make this CC a Sims that enjoys being in the midst of consciousness and also aims to stun everyone they come into touch with.
The curvy structure of their lashes is one of the most crucial talents they display. 
Skin Detail Lash Pack N01
The set also includes eight eyeliner/eyeshadow variations in five different hues to go with any outfit for any occasion.
Although the majority of the Sims 4 lashes C-C in this category are intended for feminine-looking Sims, as mature males may have pretty long lashes, those without make-up are all suitable for men. Kijiko lashes the Sims 4.
As a result, we have a fairly ordinary but high-quality package of forty different lash Type-S by notorious C-C producer PralineSims for multiple actual eyelashes C-C. All of these Sims 4 C-C eyelashes look natural and come in three different lengths.
Also Read – The Sims 4 Vampire Cheats For Ps4, Xbox (100% Tested & Working)
MMSIMS Eyelashes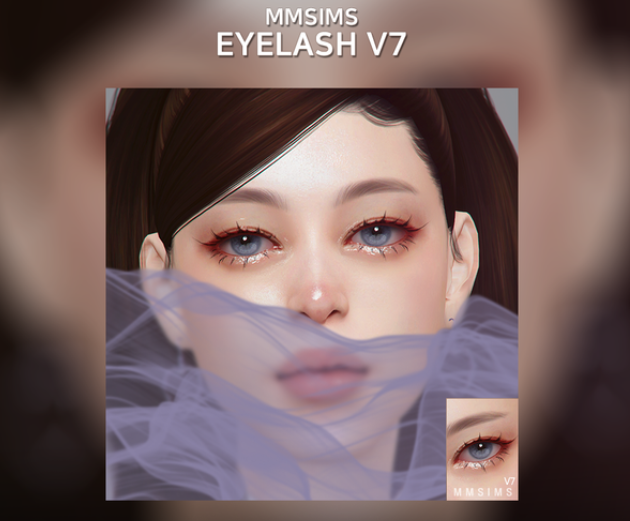 MMSIMS, the Korean founder, attracts these hyper-realistic and subtle-looking lashes that appear genuine; in comparison, the other CC alternatives might appear cartoonish. We strongly advise anyone doing hyper-detailed Ts 4 encounters for photography purposes to do so.
Also, for anyone working with the HQ mod, even if only for this issue. It now has thirty distinct swatches with just about every single minor variety that you could imagine, designed for both female and male Sims.
Maxis Match Eyelashes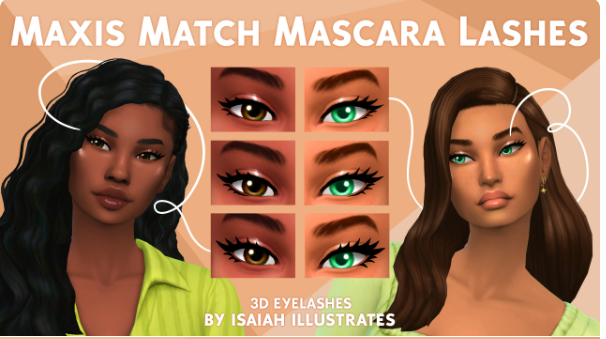 Fortunately for folks, PickyPikachu, the creator of the beloved, gave us wonderful C-C to your lengthier cartoonish-looking Sims. These beautiful lashes have basic layouts that are similar to Maxis' default choice lashes.
They are available in two variations: Jade (which has just four styled lashes) and Norma (which mimics the option vanilla lashes). Thus, they will have fewer lash choices. Maxis Match Sims will not find much affection in your CC neighborhood.
Bobur Eyelashes 12
If you play The Sims 4 with all of the HQ mod Sims 4 C-C lashes, consider these HQ-compatible lashes by maker Bobur3. They are widely available and, thus, can be found everywhere.
Nonetheless, they remain darker and bushy enough that, despite their ordinary spread, they will soon be seen kijiko lashes sims 4.
Ruby 3D Eyelashes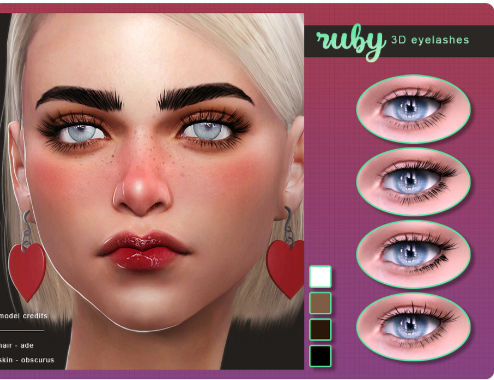 Screaming Mustard's most well-known 3 d Lashes are also among the most often used types in the area at large.
However, Screaming Mustard could duplicate the impression of freshly-applied lashes, making them among their most realistic-looking lashes to its smokey Sim, who isn't afraid to experiment with various make-up upgrades.
Furthermore, these numerous types, such as extra C-C, are quite likely to be found outdoors. All of these [Ruby] lashes are long and perfect. They are excellent for getting close-up shots of one's Alpha-looking Sims.
Magnolia C-3D Eyelashes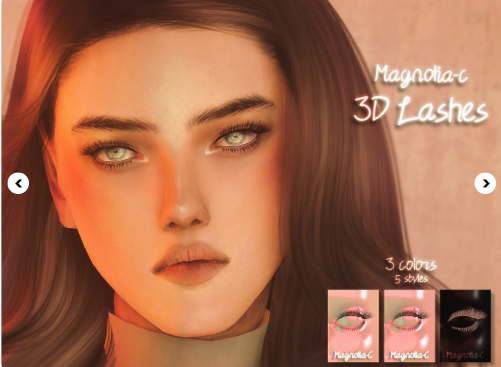 Couple with five-span versions and hues ranging from dark to light, it should meet the needs of the feminine Sim. These relatively modest lashes have the depth and lifelike makeup required to look great in a close-up image.
So get ready to get your gifts! Unfortunately, they are only for women. Alpha-looking 3 d Lashes by creator Magnolia-C are among the most popular, famous, and frequently recommended lash CCs.
Sapphire 3D Lashes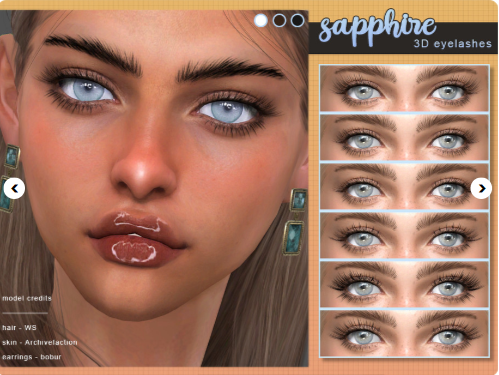 These are thin enough to give your Sims an all-pure look from a distance. These are available in six significantly changed versions, allowing you to select the ideal one for Sim's face makeup.
They're lovely for somebody who doesn't much like makeup, and they'll look great even without any cosmetics at all.
While not the most famous innovation, Screaming Mustard's [Sapphire] 3 d eye-lashes are undeniably one of the most attractive choices available for Your Sims 4.
Maggie Eyelashes And Eyeliner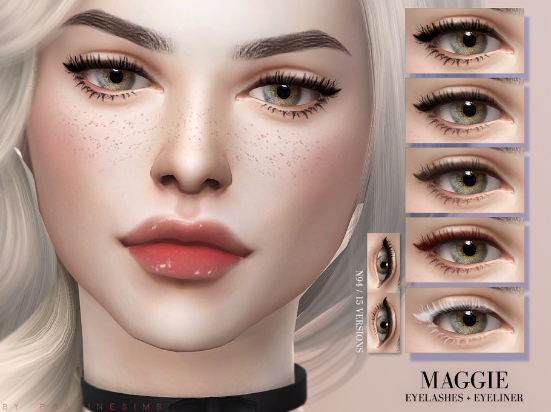 This is the best package to use for white lashes, as the anime-like look of these shorter lashes is challenging to overcome. Typically, there are 1-5 models, such as five colors.
This set provides adventurous, but perhaps not hefty, lashes that are very swift. Everyone appreciates it when different elements of CC function in sync.
So if PralineSims serves you a mixed tray of lashes and eyeliner, you know they'll look amazing.
Hollywood Lashes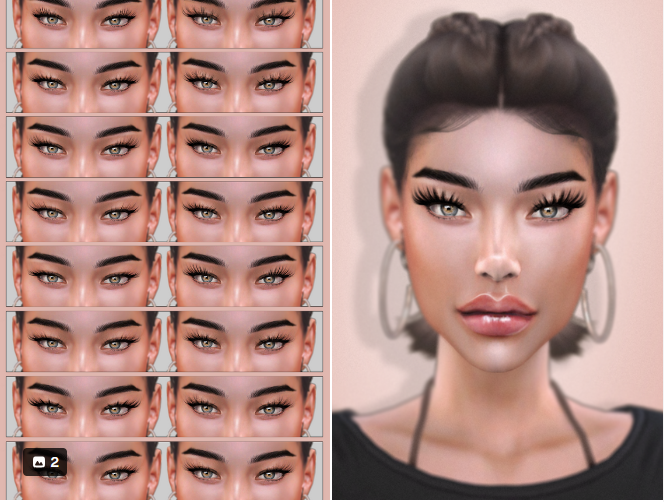 These Hollywood Lashes by Leah Lillith are as stunning and luscious as few others.
They're long and enticing, yet they still manage to seem natural.
They are available in 21 distinct versions, with differences ranging from minor to substantial.
Because they often do not comprise lower lashes, you will most likely need to use faint eyeliner to frame the eye more strongly.
Dream Girl 3D Eyelashes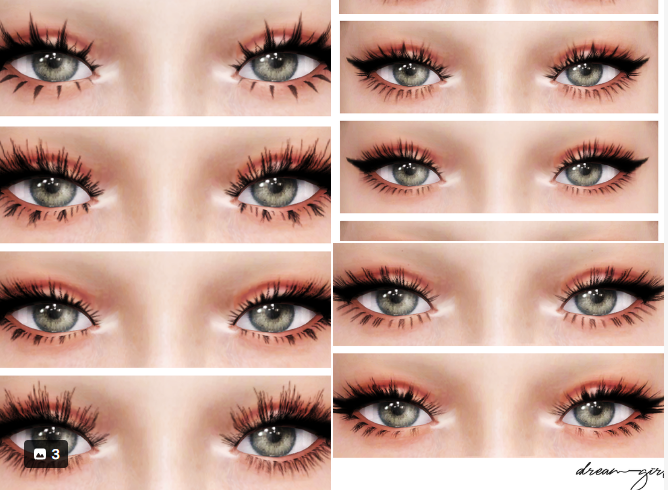 If you're searching for a single catch-all eyelash CC pack that will offer you the lashes you need to give your varied Sims a new look, Dream-Girl's 3D Lashes is the way to go.
It is the second version of the famous pack, which includes a selection of eyelash patterns ranging from natural to high-sized lashes.
You can also discover some unusual, bushy lashes that you would only see on RuPaul's Drag Race or in a love shojo novel.
Maxis Match Eyelashes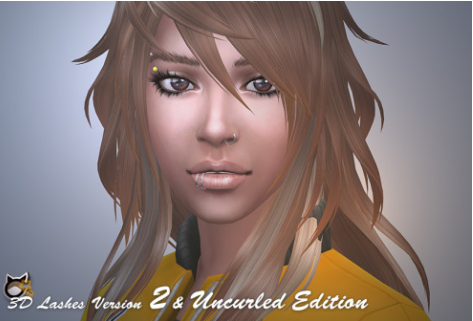 Maxis Match Sims are underappreciated in the CC community.
Fortunately for us, PickyPikachu, the creator, has an eye for the cute and the desire to deliver us excellent CC for the more cartoonish-looking Sims.
These adorable lashes have basic patterns that are similar to Maxis' default eyelashes.
They come in two varieties: Jade (which has four long, styled lashes) and Norma, which appears similar to the vanilla lashes but has lower lash variations.
Kijilo 3D Eyelashes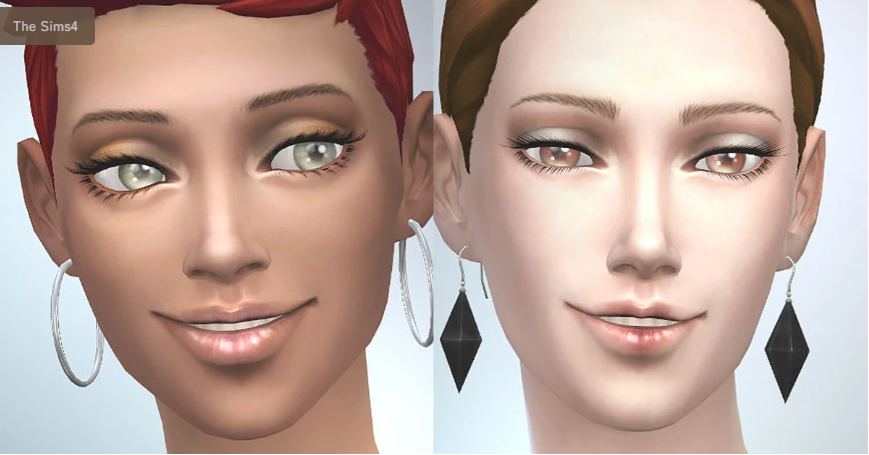 These gorgeous, long, and curvy lashes are the most adaptable alternative for style-conscious TS4 lovers who just want good-looking eyelashes for everyone in the family.
All of them are also compatible with eye shape morphing, making them quite simple to employ.
This CC set has 20 long and 25 medium-length styles, so variety is not an issue. Yes, 45 distinct styles in all!
S-Club's Eyeliner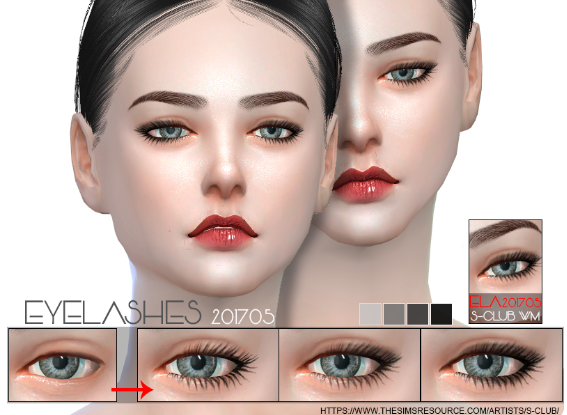 You can rapidly gain more ways to customize the "pixels' surrounding your sims' eyes using the website's unique Custom Content with the Sims resource assistance.
Indeed, this modder takes their time to create the greatest modifications for The Sims 4 and continue to improve the game's content.
As a consequence, you can download a variety of "groups" including either Eyeliners or Eyelashes.
Fortunately, because all of this work is from the same source, you can add/remove whatever you wish.
Keep an eye out for future S-Club developments. In The Sims 4, there is always something fresh to attempt.
MaySims 3D Eyelashes
If you want to add additional products with the same theme, this is the best option.
There are now three distinct colors but other alternatives to experiment with your Sims.
You can make them appear excellent with a bit of fiddling. The most notable feature is that they utilize a personal website to keep their moderators "secure."
In other words, before you begin downloading, you must disable "AdBlock" (if you have it) and establish an account.
Leahlillith 3D Eyelashes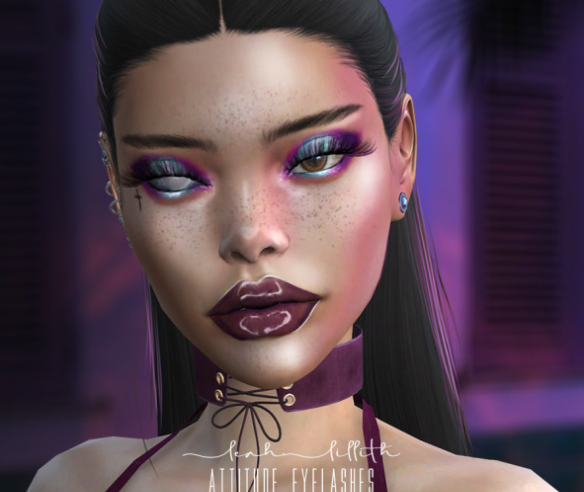 When you've finished configuring everything for this mod, you'll have an additional layer of choices for making your sims look fantastic.
This time, you can choose between 3D Lashes with long or short characteristics. This modder has two separate groups, each with a different realistic concept.
The Hollywood group, for example, draws inspiration from the famous ladies who walk the red carpet. Simultaneously, you can come upon the "Attitude" group, which makes your sims appear more serious and ready for anything. With these alternatives, you could even go through the jungle with your head held high.
Halloween 3D Lashes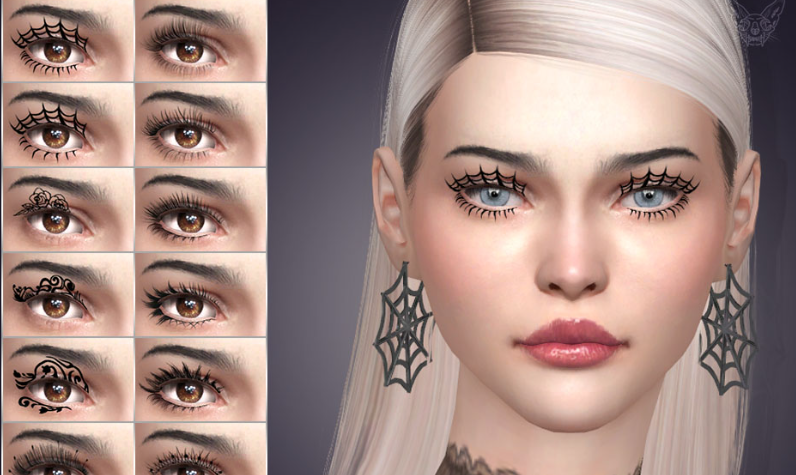 With this Custom Content, you can leave reality behind and add lashes from the otherworldly category.
Among the possibilities available, some objects put a spider's web around your eyes. You could also come across some tribal-like selections or something entirely out of context.
Without a doubt, this mod provides the "queen of the night" effect. As a result, some gamers like to include this sort of information in their vampire simulations. As a consequence, if you wish to create a Vampire with distinct new characteristics, you might include this in your "arsenal."
Final Thoughts
This collection of Sims 4 eyelashes should help you find some of the greatest eyelashes for your Sims character. So, go ahead and choose your favorite eyelashes from the list.